Recently redesigned by Wellington's own archaus architects, 'Cuba View' has been a resident favourite here at HiAtlas. Nestled on the top floor of the historic Watkins Building, Cuba View offers a quiet retreat right in the heart of Wellington's most vibrant neighbourhood. Known for its quirky cafes, boutique stores and live music scene, Cuba St is the very essence of the 'Creative Capital'. Olive Cafe, Midnight Espresso and the Flying Burrito Brothers are just a few iconic names among the Wellington food scene, and our very own Cuba View lies directly above them.
Situated on the corner of Cuba and Vivian St, the Watkins Building dates back to 1904. It's the largest commercial Edwardian property remaining at the top end of Cuba St. The units above Flying Burrito Brothers have each been converted into residential apartments over the years, and Cuba View, an empty shell at the time, was the last to follow suit.
Wellingtonian Tim Copeland purchased the blank canvas in 2014. Split over two floors, the 178sqm space had no lighting, and a ladder sat in place of what should have been a staircase. The apartment was rough, but the exposed brick, steel bracings and large character windows that line the front and side of the building offered a unique charm, and it wasn't hard to envisage it's potential.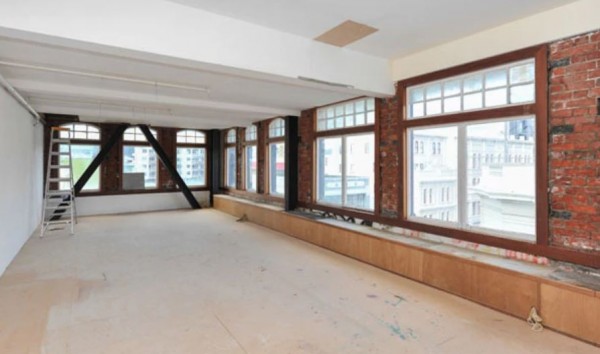 Archaus grasped Tim's vision and designed a modern and sophisticated space without compromising the apartments heritage and charm. The windows truly were the apartment's greatest feature - allowing for what would soon be a quiet sanctuary without feeling shut off from the vibrancy and hustle and bustle of the streets below.

The end result exceeded expectations: The open-plan living space and designer kitchen that span the bottom floor are flooded with all-day sun. The two cleverly designed, distinct bedroom wings are each equipped with their own wardrobes and ensuites. An additional space can be configured as either a home office or a third bedroom. And the cherry on top? The master suite above opens up to a rooftop terrace.
Concept to completion took close to two years. When you step inside the apartment and witness first-hand the impeccable attention to detail and high-quality finishings, you can appreciate that it was worth the wait. Just in time to celebrate their daughter's first birthday, Tim and his wife and daughter moved in as soon as the apartment was ready in 2016.
Having lived in apartments around the Wellington CBD since 2002, Tim has always loved the ease of living and working in the city. Residing in Cuba View offered quite a different lifestyle to what he was previously used to down the 'corporate' end of town. Tim recalls that it was nice to live in a vibrant and happening area - work was still only a very short stroll away, but the area felt more 'homely'. Tim has fond memories of being greeted by name each morning by the crew at Olive as he grabbed his morning fix. Being so close to the waterfront and Te Papa was a blessing with a young child to entertain too.
After a year of testing out the brand new apartment and enjoying all the perks of the area, adventure called and Tim and has family decided to make the move to San Fran. Reluctant to sell the apartment he now had such strong personal ties too, Tim came to HiAtlas to discuss it's renting potential.
We've had two long-term tenancies at Cuba View, and a third to commence at the end of November. It would be fair to say Cuba View has been a resident favourite. Enquiries are consistent and the incoming residents are even relocating from another HiAtlas apartment as they've had their eye on Cuba View since the beginning and have been waiting for it to come available! About to jet-set off to England on their next adventure, Tim's happily leaving Cuba View in HiAtlas' hands and is even looking at other investment possibilities.
Cuba View will be available from June 2019. Head to the listing here to find out more.
'Contemporary Charm' is another of the four properties we currently manage within the Cuba quarter. Tucked away on Footscray Ave behind the infamous Fidel's, Contemporary Charm has a wonderful story of its own. After being gutted by fire in 2008, the cottage has not just been restored, been completely rebuilt in the image of it's old self. Available from January, Contemporary Charm is not a typical property for HiAtlas, though it is one with sophistication and charm like no other. Check back soon to read the full story.